<![if !vml]>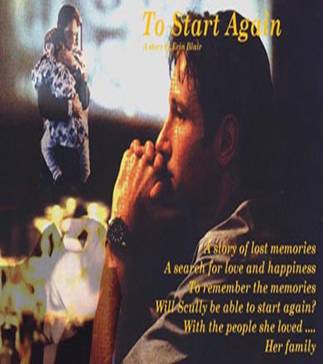 <![endif]>TO START AGAIN SERIES
---
A secret revealed.
Selective memory loss.
Can love survive over time?
How do you face the future when your love returns?
"To Start Again" is a new Mulder/Scully Romance written by me, Erin M. Blair. I'm using various spoilers from all the episodes up to Season Six, and possibly the seventh season. I hope you'll enjoy this story as I had writing it. I would like to thank Jen, Tanja, Joey, Lisa and Carol for their support and encouragement of the "To Start Again" project. This collage was made by Tanja Voet. Thanks so much for your encouragement of this story.
The first installment of this story has now been completed, but I'm always editing and perfecting it. Please keep coming back as you'll never know what I'll put up here.
Part One  Part Two   Part Three   Part Four
Extra Features
"To Start Again" scenes that weren't in the final draft.
Original Summary for "To Start Again."
Full Text Version of "To Start Again."
Coming Soon
To Start Again II:  Requiem
To Start Again Interlude: Dana's Birthday